Quality that is guaranteed
Your lawn and landscape
the way that it should be
Exceptional


Services We Offer
We provide exceptional landscaping services to a wide range of commercial and residential properties for over 35 years, including large corporate environments, city parks, shopping malls and appartments. Our experienced landscapers set the standard each day in landscape design, paving, hardscaping. We will whip your yard into shape in no time.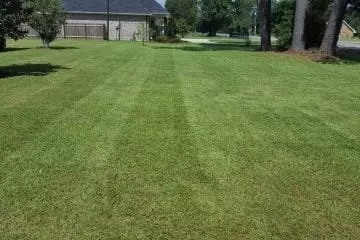 We offer grass cutting services including mowing, bush-hogging, line trimming/weed-eating, edging, yard cleanup, mulching, and more.
Keep your lawn healthy year-round with our lawn care program. We have the necessary ingredients to keep your lawn robust every season.
We can design and install new landscape beds to make your yard beautiful and elevate the beauty and value of your home.
With so many years of experience in the business, our company is your
source for the highest quality and landscaping service.
Professional

lawn care and grass cutting services
Tender Care Lawn Services is a family owned business.  We take great pride in customer satisfaction and work hard to ensure that we stand out as a different kind of grass cutting service and lawn care services provider.
Our residential and commercial customers commend our work and we've often been complimented as thorough, exceptionally reliable, and friendly.
Our team provides grass cutting services, lawn care services, and landscape maintenance services for residences, offices and commercial properties, as well as new property developments.  You can be assured of Quality Lawn Care….Guaranteed.
The quality of our work and diligence to our customers speaks for itself.  We pride ourselves on superb quality work, timely and clear communication, professionalism, and thorough follow up.
Try us with no risk and zero commitment. We know that you'll be a customer for life.
Contact us today to schedule an appointment for grass cutting services or other lawn care services
Our lawn and landscaping company specializes in residential, commercial, and new home landscaping and lawn care
Operating for more than 10 years, we've earned a reputation for exceptional service and impeccable work
We offer free estimates for our services, and will provide you with realistic and strategic solutions
All our landscapers are fully licensed, bonded, and insured for their safety and yours
We schedule appointments to ensure that your lawn gets the timely attention it deserves.
We love to take pride in the work we do. Each project is finished in time and budget.
Are you tired of spending hours mowing your lawn every weekend?
Take back your free time by having us take care of your garden
Coming from a family oriented business of over 40 yrs, I can recommend these folks. Because of this they will take care of you!! Though I am in between homes bc I'm building...I have family & friends that use Tender Care. They all love them!!
My husband and I wanted information about the mosquito misting service and Percy and Kade came to our home, brought the demo machine and sat down with us and explained the system and answered all of our questions. These guys are 5 star for sure!!!
Fantastic service. Tender lawn care did a clean up of our flower bed and added fall color. Very friendly and professional thanks so much! I highly recommend this company
We have used this company once before for a one time yard maintenance when we were out of town, and were very pleased! So when we bought our new home and wanted our landscaping brought back to life, this company was our go to! They did an awesome job, would recommend to anyone!!
With so many years of experience in the business, our company is your source for the highest quality and landscaping service.